A 10 km run and a 50 km Cycling trip
Published on
Tags: running, fitness, cycling
Sunday or Saturday are "sports" days for me - these are the days in which I do workouts that tests the limits of my endurance.
Sunday or Saturday are "sports" days for me - these are the days in which I do workouts that tests the limits of my endurance. It would be either a long run (>10 km) or a long cycling trip (20-50 km). Last Sunday I decided to do both on the same day.
I did a 10 km run in the early morning in my college campus. I started running around 6 am. The weather conditions were ideal - there was a cloud cover and it was pleasantly cool. The first 1 km took 6 mins 38 seconds, which was close to 9 kph – I was surprised as a few days ago, I had run 5 km at an average of 8.5 kph. This increase in speed for the day was unexpected and it lasted for the next few km. Along the way I met a professor of mine and wished him morning. I completed the first 5 km without much soreness in 33 mins 3 seconds – which was greater than 9 kph! It felt good.
During the next 5 km, soreness set in and I became progressively slower. The walking breaks which I took in between (I do runs in intervals of 15 min followed by a 1.5 min break) helped in mitigating the soreness somewhat. In the end, I finished the next 5 km in 35 mins 39 seconds resulting in a 10 km run in 1:08:44 at 8.73 kph, which was better than my previous best of 1:10:00. I could have exerted myself and probably finished at average speeds of 9kph, but I had a cycling trip ahead. Below is the screenshot of my lap timings from the android app runnerup.
After this I decided to follow up with a big cycling trip. I own a Btwin Rockrider 340, an mountain bike. I can do a half marathon (21 km), hence after the 10 km run, I was only half stretched to my endurance. Also, cycling is not as intensive as running is. I had earlier signed up for a presentation on First Aid by Trichy Treckers, and I decided to go by cycle to attend the program. The venue was about 20 km from my college in the center of the Tiruchirappalli city. I started at 8:30, which is one and a half hours before the scheduled start of the program. It was a ride in sunday morning. The traffic was medium along the highways and bearable inside the city. I managed to reach the program venue at 10:10, which was a little bit late. The First Aid presentation was great and informative. The doctors there explained the various conditions contingencies that one has to face while trekking. There was even a hands on Cardiopulmonary resuscitation (CPR) in which everybody has to perform a CPR on a manikin.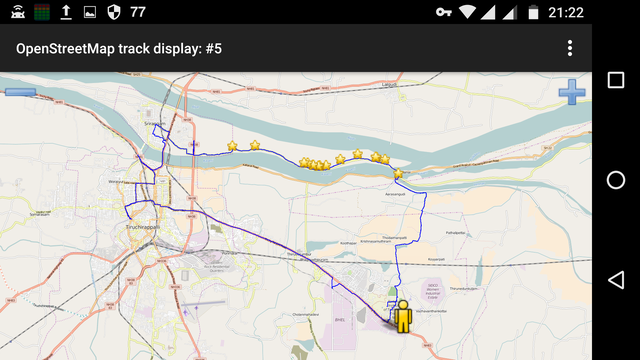 Figure 2: My 50k cycling trip route in osmtracker
Although the program was free, the hosts provided everyone with delicious food that included chicken, payasam and ice cream. I left the venue at 2:20 pm and then proceeded towards the next half of my journey. After this , I took a roundabout route back to my college via Srirangam and kallanai as I wanted to explore that long road that connects Srirangam and Kallanai(the one marked with several stars along in the above map). On the way to Srirangam, I stopped in an Adidas showroom to window shop for a few clothes. Also, got some water from the showroom. One of the major roads in Srirangam was blocked due to ongoing construction work. I had to take a detour to reach the road that I wanted to explore. I had a sathukudi juice at a juice shop and also refilled my water bottle once again. I had only one water bottle, hence I had to keep refilling frequently and also the weather was hot and draining.
After this began a 18 km long trip via this road. It wasn't as good as I expected, but lack of traffic made the ride good enough. I passed along farms, banana and coconut plantations, brick works, concrete mixing factories, schools and some apartments. I ran out of water halfway through this road, but by then it was past 5pm and the weather started to cool down.
I reached Kallanai, which is one of the oldest dams in world, around 6 pm. I was just in time to witness the golden sunset. I stayed there for sometime (I had visited this place several times), refilled my water bottle (reluctantly bought 1 liter of bottled water for ₹20) and started my trip back home.
I had to pass 10 km of treacherous roads with steadily falling darkness. Alternative is to take another road which was somewhat better, but would be 15 km. I decided to take the shorter road. Initially the trip was uneventful. There was sufficient light to navigate through the treacherous terrain as shown in the below picture.
But soon light was too dim, there were no streetlights and I found it harder to avoid bumps. After sometime, I had no clue to the terrain and was entirely under its mercy. Jarring impacts added to soreness on my knees, but with adrenaline in my system, I was alert and all pain was ignored. On the way, I was chased by a dog that stood guarding an isolated house. I managed to reach lighted streets without any incident (thanks to my previous experiences in the same road, the thick tires of my MTB and front suspension) and finally my destination at 7:30 pm. I would never ever travel through a treacherous terrain in the night!
But overall, it was a very good and satisfying day.